| | |
| --- | --- |
| | Blohm & Voss |
| | 1958 |
| | 1958 |
| | 1958 |
| | Gorch Fock |
| | |
| | |
| --- | --- |
| | 1.332(GRT) |
| | 2006t |
| | 89,3 , 292 |
| | 12 , 39 |
| | 5,3 , 17,4 |
| | 45 , 147,6 |
| | 2.037 |
| | 21.926 |
| MMSI | 211210280 |
| IMO | 5133644 |
| | DRAX |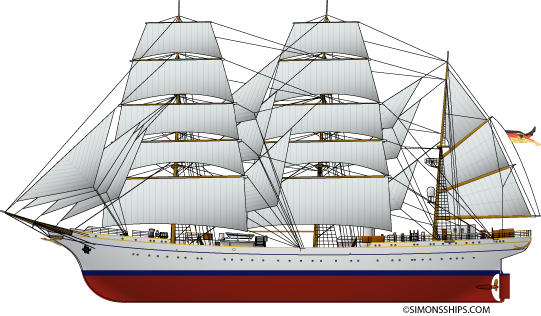 Since the German Navy lost all its school ships after the Second World War (the pre-war school ships were confiscated by the allied countries), the German Navy in 1957 decided to order a new sail training ship again with the builder of the old famous school ships Blohm & Voss.
The ship was a modernized and slightly changed copy of the Albert Leo Schlageter (today Portugues Sagres II) and Horst Wessel (today USCGC Eagle) but named Gorch Fock (pseudonym of the German poet and writer Johann Kinau) after the first schoolship of the Gorch Fock class of ships, at that time serving as sails training vessel for the USSR navy under the name of Tovarisch.
The ship is rigged as a three mast barque. The Gorch Fock class of ships were already designed as very save ships. They have a righting moment large enough to bring the ship back into upright position even when heeling over to nearly 90o. However extra measures were taken after the tragic sinking of the Pamir in 1957 especially concerning lifesaving equipment and lifeboats. The Gorch Fock is five times winner of the Boston teapot.
References
Wikepedia: en.wikipedia.org/wiki/Gorch_Fock_(1958)
German navy: www.marine.de/portal/a/marine (German)
"The content of this page is available under CC-BY-SA/GFDL"