| | |
| --- | --- |
| | Blohm & Voss |
| | 1937 |
| | 1937 |
| | 1938 |
| | Albert Leo Schlageter |
| | |
| | Albert Leo Schlageter |
| | |
| | Guanabara |
| | |
| | Sagres |
| | |
| | |
| --- | --- |
| | 1.550(GRT) |
| | 1.940t |
| | 89,5 , 293,6 |
| | 12 , 39,4 |
| | 6,2 , 20,3 |
| | 45 , 147,6 |
| | 1.979 |
| | 21.301 |
| MMSI | 263141000 |
| IMO | |
| | CTEC |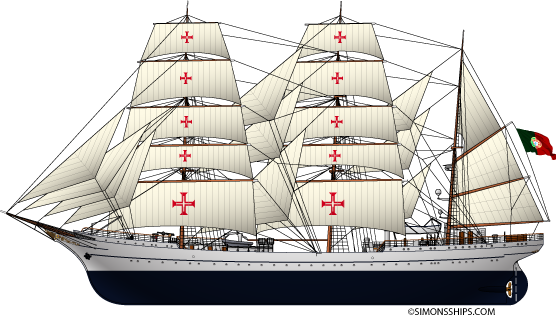 Under the name of Albert Leo Schlageter the vessel was launched in 1937 at the Blohm & Voss shipyard in Hamburg, Germany. The ship belongs to the Gorch Fock class of sailing ships and is a sistership of the Gorch Fock (Tovarich), Horst Wessel (Eagle) and Mircea. The ship was operated by the German Navy as a school-ship.
After the Second World War the ship was confiscated by the United States. In 1948 she was sold by the United States to Brazil. Renamed Guanabara, she served till 1960 as sail training vessel for the Brazilian navy. In 1960 the ship was decommissioned and used as floating basis for the Brazilian patrol fleet.
At that time Portugal was looking for a replacement of the (old) Sagres (now museum-ship in Hamburg under her original name: Rickmer Rickmers). The Portuguese navy bought the Brazilian ship and renamed her N.R.P. Sagres (N.R.P. means Navio da República Portuguesa) the third vessel of that name (named after most southerly community in Portugal).
The vessel is used as the sails training ship of the Portuguese Navy. The Sagres won the Boston teapot in 2009.
References
Wikepedia: en.wikipedia.org/wiki/NRP_Sagres_III
Portuguese Navy: sagres.marinha.pt/pt/Paginas/default.aspx (Portuguese)
"The content of this page is available under CC-BY-SA/GFDL"