| | |
| --- | --- |
| | Blohm & Voss |
| | 1936 |
| | 1936 |
| | 1936 |
| | Horst Wessel |
| | |
| | USCGC Eagle |
| | |
| | |
| --- | --- |
| | 1.390(GRT) |
| | 1.643t |
| | 89,7 , 295 |
| | 12 , 39 |
| | 6,2 , 20,3 |
| | 45,4 , 149 |
| | 1.983 |
| | 21.344 |
| MMSI | 303990000 |
| IMO | |
| | NRCB |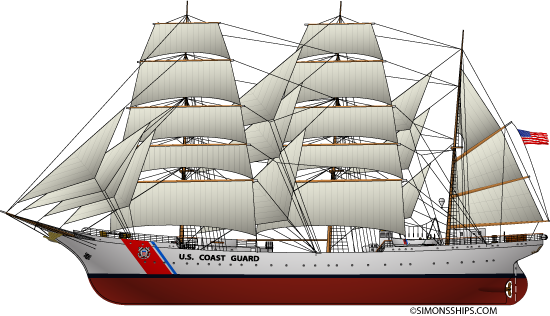 From 1932 onward the German navy ordered a series of school ships (sail training vessels) starting with the Gorch Fock and therefor called the Gorch Fock class of ships. The second ship of the series was called Horst Wessel after a Nazi party member (firth vessel was called Albert Leo Schlageter; fourth Mircea and fifth never finished Herbert Norkus).
All these ships were built by the German shipyard Blohm & Voss, also the builder of the replacement schoolship built in 1958 as Gorch Fock (II), since the original Gorch Fock was taken as war repair by Soviet Union.
The Horst Wessel served as the flagship of the German Navy schoolship fleet until she was decommissioned on the onset of the Second World War in 1939. Like her sisterships, the Horst Wessel was after the war taken by the allied nations, in her case by the United States.
Renamed as United States Coast Guard Cutter (USCGC) Eagle the ship became the seventh US navy or Coast Guard ship with this name since 1792. Operating as a training ship for cadets from the United States Coast Guard Academy the Eagle conduct training cruises for some weeks or months.
The Eagle (a two times winner of the Boston teapot) offers future officers the opportunity to put into practice the navigation, engineering, and other professional theory they have previously learned in the classroom. Upper class trainees exercise leadership and service duties normally handled by junior officers, while underclass trainees fill crew positions of a junior enlisted personnel. Everyone who trains on the Eagle experiences a character building experience.
References
Wikepedia: en.wikipedia.org/wiki/USCGC_Eagle_(WIX-327)
Coast Guard Academy: www.cga.edu/eagle/
ESYS: www.esys.org/bigship/eagle.html (German)
"The content of this page is available under CC-BY-SA/GFDL"