| | |
| --- | --- |
| | Joh.C.Tecklenborg |
| | 1913 |
| | 1914 |
| | 1914 |
| | Grossherzog Friedrich |
| | August |
| | Deutscher Schulschiff- |
| | Verein |
| | Statsraad Lehmkuhl |
| | Bergens Skolskib |
| | Stiftelsen |
| | Westwärts |
| | |
| | Statsraad Lehmkuhl |
| | Stiftelsen Seilskipet |
| | Statsraad Lehmkuhl |
| | |
| --- | --- |
| | 1.701(GRT) |
| | 1.516t |
| | 98 , 321,5 |
| | 12,6 , 41,3 |
| | 5,2 , 17 |
| | 48 , 157,4 |
| | 2.026 |
| | 21.807 |
| MMSI | 258113000 |
| IMO | 5339248 |
| | LDRG |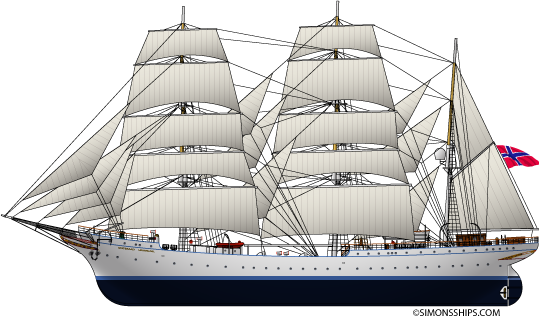 The Statsraad Lehmkuhl is built in 1914 just before the First World War as trainings vessel for the German merchant marine and then named Großherzog Friedrich August. In 1919 the ship was confiscated by the UK government.
On initiative of Kristofer Didrik Lehmkuhl in 1923 the ship was bought by the Norgens Rederforbund (Norwegian Shipowners Association) and in honour to him named Statsraad Lehmkuhl. After some minor adjustments the vessel was used for training and operated by the Bergens Skolskib Stiftelsen (Bergens School-ship Foundation).
During the Second World War the ship was confiscated by the German occupier and used as depot ship under the name of Westwärts.
After the war the ship was again used as training vessel. Today the vessel is operated by the independent Stiftelsen Seilskipet Statsraad Lehmkuhl (Statsraad Lehmkuhl Foundation). The ship can be chartered by various organizations. In 2000 for instance the sailing ship was chartered by the German Navy as temporary replacement of the Gorch Fock. When chartered by the Norwegian Navy the ship will be renamed as KNM Statsraad Lehmkuhl. KNM means Kongeleg Norsk Marine (Royal Norwegian Navy).
The Statsraad Lehmkuhl won two times the Boston teapot, last time in 2010.
References
Wikepedia: en.wikipedia.org/wiki/Statsraad_Lehmkuhl
Stiftelsen Lehmkuhl: www.lehmkuhl.no/english
"The content of this page is available under CC-BY-SA/GFDL"