| | |
| --- | --- |
| | Damen Oranjewerf |
| | 1997 |
| | 1998 |
| | 2000 |
| | Stad Amsterdam |
| | Rederij Clipper |
| | Stad Amsterdam |
| | |
| --- | --- |
| | 723(GRT) |
| | 1.038t |
| | 76 , 249,3 |
| | 10,5 , 34,4 |
| | 4,8 , 15,7 |
| | 46 , 151 |
| | 2.195 |
| | 23.626 |
| MMSI | 246494000 |
| IMO | 9185554 |
| | PECA |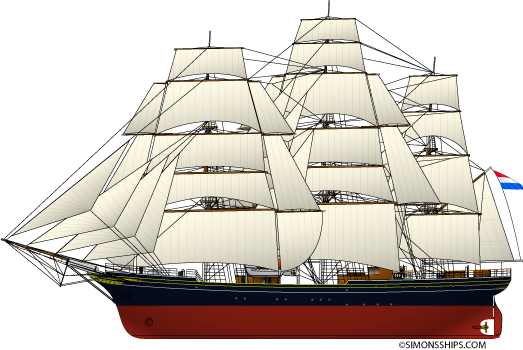 On initiative of Frits Goldschmeding (founder of the Randstad employment agency) and the council of Amsterdam a plan was made to build a historical merchant clipper. The ships building plan should be inspired by the 1854 vessel Amsterdam, but of course must also be equipped with modern technology.
Yacht-builder Gerard Dijkstra designed a ship for top-performance below and with a Victorian impression above the waterline. The work started by the end of 1997 by Damen Shipyard at the Oranjewerf in Amsterdam. In 2000 the ship was completed and christened "Stad Amsterdam" by Rita Kok wife of then prime-minister Wim Kok. The ship is operated by: "Rederij Clipper Stad Amsterdam" owned by Randstad Holding and the municipality of Amsterdam. In 2001 the Stad Amsterdam won the Cutty Sark Tall Ships Race for the first time.
In 2009 the Stad Amsterdam was commissioned by the VPRO public TV network for an eight month voyage, commemorating the 200th birthday of Charles Darwin, founder of the evolution-theory and famous biologist and geologist. From 1831 till 1836 Darwin sailed around the world on board of the sailing vessel Beagle. This journey is replicated by the Stad Amsterdam.
With the same design (only slightly adapted) the sistership Cisne Branco is built in the same time frame. This ship is operated by the Brazilian Navy.
References
Wikepedia: en.wikipedia.org/wiki/Stad_Amsterdam
Shipping company "Clipper Stad Amsterdam": www.stadamsterdam.com/en/
"The content of this page is available under CC-BY-SA/GFDL"