| | |
| --- | --- |
| | Damen,Oranjewerf |
| | 1998 |
| | 1999 |
| | 2000 |
| | Cisne Branco |
| | |
| | |
| --- | --- |
| | 723(GRT) |
| | 1.038t |
| | 76 , 249,4 |
| | 10,5 , 34,4 |
| | 4,8 , 15,7 |
| | 46 , 151 |
| | 2.195 |
| | 23.626 |
| MMSI | 710428000 |
| IMO | 9203320 |
| | PWCB |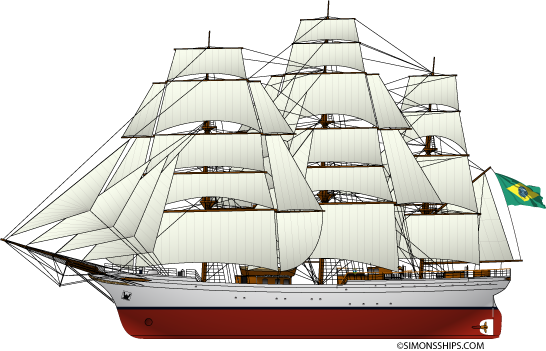 From 1948 onwards till 1962 the Brazilian Navy operated a large sailing ship (the former German vessel Albert Leo Schlageter) under the name of Guanabara. In 1962 this ship was sold to Portugal and is now operated by the Portuguese navy under the name Sagres.
When the 500th anniversary of the discovery of Brazil came nearer, the wish to operate again a large (historical) sailing ship grew stronger. In the same period Damen Oranjewerf Amsterdam was building the ship: Stad Amsterdam, ordered by the shipping company: Rederij Clipper Stad Amsterdam. This ship was designed by the Dutch yacht designer Gerard Dijkstra.
With only a few adaptions the ship design fulfilled the requirements of the Brazilian Navy. In August 1998 the contract was signed and less than one and a half year later the Cisne Branco (meaning White Swan) was delivered to the Brazilian Navy in February 2000.
The Cisne Branco is a full rigged ship, which means that all her three masts are equipped with square sails. Five of these square sails are located on the foremast, six on the mainmast and four on the mizzenmast. From the foremast to the bowsprit four jibs are operated together with three staysails from the main- and two from the mizzenmast. A spanker is added to the mizzenmast. This vast number of sails (for a ship of this size) can be increased by studdingsails which can be added on either side of the yards by means of outriggers.
While the ship looks historical with separated top- and topgallantmasts and a jibboom added to the bowsprit, she is in fact a very modern ship. Although the lowermasts are made from steel the topmasts and yards are made off aluminium. Also the sails are made from modern lightweight materials. The ship has even a bowthruster for maneuvering in a harbor. This thruster can be closed for optimal sailing conditions.
Her maiden voyage made the Cisne Branco across the Atlantic Ocean from Portugal to Brazil in 2000 celebrating the 500th anniversary of the discovery of Brazil by the Portuguese Admiral Pedro Alvares Cabral. The ship is used as an instructional sailing ship by cadets of the Brazilian Naval Academy and the Academy of the Merchant Marine. But has also an important international representation role as a showcase of the Brazilian Navy and Brazilian culture.
References:
Wikepedia: en.wikipedia.org/wiki/Cisne_Branco
Brasilian navy: www.naviosbrasileiros.com.br/ngb/C/C079/C079.htm (Portuguese)
"The content of this page is available under CC-BY-SA/GFDL"