| | |
| --- | --- |
| | Dubigeon |
| | 1933 |
| | 1934 |
| | 1934 |
| | Commandant Louis |
| | Richard |
| | Pècheries du Labrador |
| | Jean Marc Aline |
| | Bonin |
| | Palinuro |
| | |
| | |
| --- | --- |
| | 858(GRT) |
| | 1.341t |
| | 69 , 226 |
| | 10 , 33 |
| | 4,8 , 15,7 |
| | 37,5 , 123 |
| | 899 |
| | 9.677 |
| MMSI | 247939000 |
| IMO | |
| | IGMX |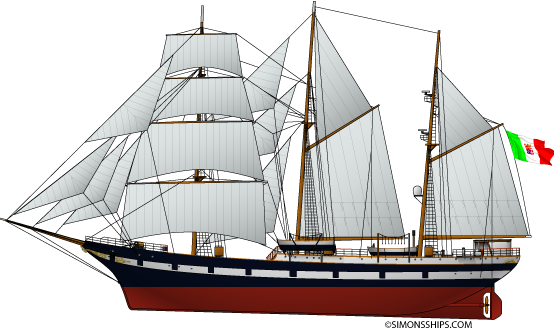 The Italian sail training vessel Palinuro is named after Palinuros the famous helmsman of Aeneas's ship (after the fall of Troy the defeated Trojans detoured the Mediterranean). Palinuros is seen as a prototype of an experienced navigator or guide.
Built at the shipyard Anciens Chantiers Dubigeon in Nantes by order of Joseph Briand (together with her sistership Lieutenant René Guillon) and named Commandant Louis Richard, the ship was intended as barquentine. However the building costs of both ships ruined the original customer even before the ships were finished. The new owner Pècheries du Labrador from Saint-Malo finished the ships as schooner to be used for cod fishing.
In 1948 the Commandant Louis Richard was bought by shipowner Bonin from Noirmoutier-en-Île, changed to a barquentine and renamed Jean Marc Aline to be used for fishing in the Southern Indian Ocean. Eventually this activity became unprofitable, thus the ship was set for sale.
In 1951 the Italian navy was looking for a replacement for the Cristoforo Colombo (passed to the Soviet Union), bought the vessel and renamed her Palinuro. After a complete renovation the ship is used as training vessel for Senior Ratings.
References
Wikepedia: it.wikipedia.org/wiki/Palinuro_(A_5311) (Italian)
Italian Navy: www.marina.difesa.it/uominimezzi/navi/Pagine/Palinuro.aspx (Italian)
"The content of this page is available under CC-BY-SA/GFDL"