| | |
| --- | --- |
| | Stocznia Gdanska |
| | 1981 |
| | 1981 |
| | 1982 |
| | Dar Młodzieży |
| | |
| | |
| --- | --- |
| | 2.385(GRT) |
| | 2.946t |
| | 108,8 , 357 |
| | 14 , 46 |
| | 6,4 , 21 |
| | 49,5 , 162,4 |
| | 3,015 |
| | 32.453 |
| MMSI | 261148001 |
| IMO | 7821075 |
| | SQLZ |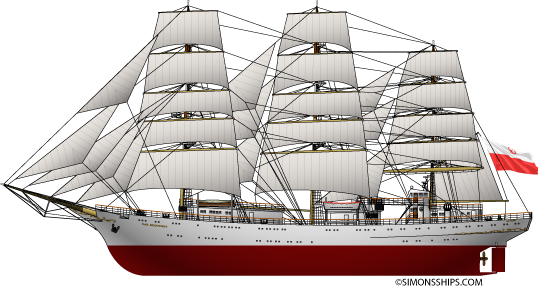 The full rigged vessel Dar Młodzieży built in 1982 at the shipyard in Gdansk is designed by Zygmunt Choreń. Based on the same design quite a number of other sailing vessels are built for various customers in the than still existing Soviet Union: Druzhba - Ukraine; Mir - Russia; Khersones - Ukraine; Pallada - Russia and Nadezhda - Russia.
The name Dar Młodzieży means "the gift of youth". With the name the fund raising activities of (school)children enabling the construction of the ship is honored. The vessel is originally intended as sail training vessel for the merchant marine and today operated by the Gdynia Maritime Academy. Although still used as a training vessel for Polish merchant cadets, the ship is now also available for commercial cruises.
The Dar Młodzieży replaces the Dar Pomorza the previous German built schoolship, which was bought in 1929 from the French by the Polisch community of Pomerania (Pommern). The Dar Pomorza is now a museum ship in Gdynia.
In 1988 the Dar Młodzieży won the Boston teapot.
References
Wikepedia: en.wikipedia.org/wiki/Dar_Młodzieży
Gdynia Maritime University: www.am.gdynia.pl/en/text/15-5_en.php
"The content of this page is available under CC-BY-SA/GFDL"