| | |
| --- | --- |
| | A.F.N.E. Astilleros |
| | Navales |
| | 1953 |
| | 1956 |
| | 1960 |
| | ARA Libertad |
| | |
| | |
| --- | --- |
| | 3.025(GRT) |
| | 3.765t |
| | 103,7 , 340 |
| | 14,3 , 47 |
| | 6,6 , 21,6 |
| | 49,8 , 163,3 |
| | 2.643 |
| | 28.449 |
| MMSI | 701000001 |
| IMO | 6125398 |
| | LOLD |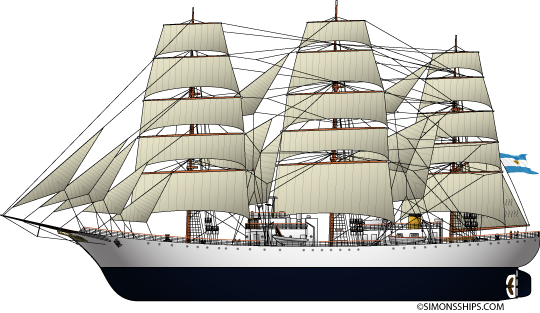 When the Argentinian schoolship Presidente Sarmiento was withdrawn from active service in 1938 (she is now a museum ship), a new sails training vessel was required. After some delay the order to build a new sailing ship was given in 1953 to the Navy shipyard at Rio Santiago. The same year the keel was laid down.
However the actual building was delayed due to quite a number of adaptations of the original design. Mid 1956 the hull was launched and by Admiralty decision named: Libertad. Also the rigging type was decided: a full rigged ship. The construction continued till 1961 and in 1962 her maiden voyage was made.
The sail training vessel ARA Libertad, ARA means Armada Republica Argentina (Argentine Navy), is primarily used for training of Navy cadets. But of course also the representation of the Argentine navy in foreign harbors is an important task.
The ship is an ambassador of the Argentinian culture, industry and agriculture. Exhibitions of art, industrial products and samples of wines, cheeses and sweets offer a good impression of the Argentina's (agricultural)industry.
The ARA Libertad is nine times winner of the Boston teapot and has the world record transatlantic crossing between Cape Race (Canada) and Dursey Island (Ireland) 1.741,4 nautical miles in 6 days and four hours.
References
Wikepedia: en.wikipedia.org/wiki/ARA_Libertad_(Q-2)
Argentine navy: www.armada.mil.ar/pag.asp?idItem=299 (Spanish)
"The content of this page is available under CC-BY-SA/GFDL"