| | |
| --- | --- |
| | Sumitomo Heavy |
| | Industries |
| | 1988 |
| | 1989 |
| | 1989 |
| | Kaiwo Maru II |
| | National Institute for |
| | Sea Training |
| | |
| --- | --- |
| | 2.556(GRT) |
| | 2.879t |
| | 110 , 361 |
| | 13,8 , 45 |
| | 10,7 , 35 |
| | 43,5 , 143 |
| | 2.760 |
| | 29.708 |
| MMSI | 431006000 |
| IMO | 8801010 |
| | JMMU |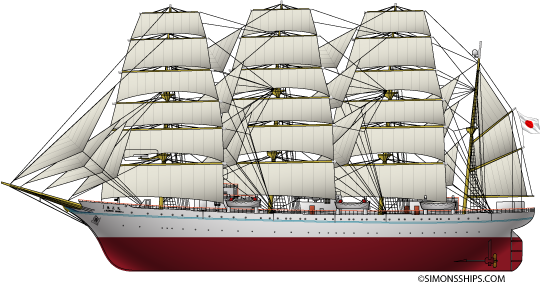 The four-masted barque Kaiwo Maru II as well as her sistership Nippon Maru II replaces the former 1930 built Japanese training vessels Kaiwo Maru and Nippon Maru, the Nippon Maru is now a museum ship docked in Yokohama harbor.
Since the original ship could not meet the safety requirements of the 21st century, in 1989 a new modern training ship Kaiwo Maru II was built by Sumitomo Heavy Industries.
The basis task of the ship is educational training of merchant marine cadets. But also for the youth in general educational voyages will be organized. For that reason the ship is intentionally built as a passenger ship with classrooms to enable a broad range of training facilities.
The Japanese sail training vessels are operated by the National Institute for Sea Training (NIST). Although original a governmental agency, it is now an independent institute.
The Kaiwo Maru is four times winner of the Boston teapot.
References
Wikepedia: en.wikipedia.org/wiki/Kaiwo_Maru_(1989)
NIST: www.kohkun.go.jp/en/ships/kaiwomaru.html
"The content of this page is available under CC-BY-SA/GFDL"