| | |
| --- | --- |
| | Echevarrieta y Larrinaga |
| | 1925 |
| | 1927 |
| | 1928 |
| | Juan Sebastián |
| | de Elcano |
| | |
| | |
| --- | --- |
| | 3.901(GRT) |
| | 3.612t |
| | 113 , 370,7 |
| | 13,1 , 43 |
| | 6,8 , 22,6 |
| | 49,9 , 164 |
| | 3.153 |
| | 33.939 |
| MMSI | 224977000 |
| IMO | 8642567 |
| | EBCB |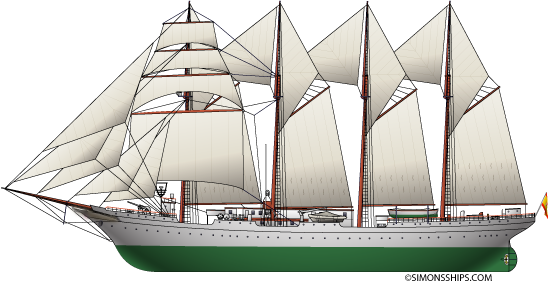 The intended name of the ship, which is now called Juan Sebastián de Elcano, was Minerva after the Roman goddess of poetry, medicine, wisdom, commerce and magic (equivalent to Greek goddess Athene). Minerva is still present on the ship as figurehead. King Alfonso XIII however decided by Royal Decree to name the ship after the famous Spanish explorer Elcano, who sailed the first circumnavigation around the world led by the Portuguese Ferdinand Magellan. The King also decided to honor the ship with the Elcano coat of arms, which was granted to the Elcano family by Emperor Charles I after Elcano returned from his trip. The coat of arms is a terraqueous globe with the motto "Primus Circumdedisti Me" (meaning: "First to circumnavigate me").
Built in 1927 in Cadiz, the vessel is rigged as a topsail schooner and is the largest schooner of this type. With her 113 meters (370 feet) she is the third largest tall ship in the world. The four mast are named Blanca, Almansa, Asturias and Nautilus (from bow to stern) after the school ships that preceded her.
The ship is used for training of cadets of the Spanish Navy, both the Spanish King Juan Carlos I as well as his son the Prince royal Felipe de Borbón did their turn as cadets on the trainings vessel. Until 2010 the ship won eight times the Boston teapot.
In 1952 the blueprints of the Juan Sebastián de Elcano were used again for the construction of the Chilean sail training ship Esmeralda, although this ship is rigged as a barquentine.
References
Wikepedia: en.wikipedia.org/wiki/Spanish_ship_Juan_Sebastián_Elcano_(1927)
Armada Espagnola: www.armada.mde.es/ArmadaPortal/page/Portal/ArmadaEspannola/buques_superficie/prefLang_en/ (Spanish)
"The content of this page is available under CC-BY-SA/GFDL"