| | |
| --- | --- |
| | Dubigeon |
| | 1895 |
| | 1896 |
| | 1896 |
| | Belem |
| | Denis Crouan Fils |
| | Belem |
| | Westminster |
| | Fantôme II |
| | Sir Arthur Ernest |
| | Guinness |
| | Giorgio Cini |
| | Vittorio Cini |
| | Belem |
| | La Fondation Belem |
| | |
| --- | --- |
| | 534(GRT) |
| | 750t |
| | 58 , 190,2 |
| | 8,8 , 28,9 |
| | 3,6 , 11,8 |
| | 34 , 111,5 |
| | 1000 |
| | 10.764 |
| MMSI | 227051000 |
| IMO | 8622983 |
| | FUZW |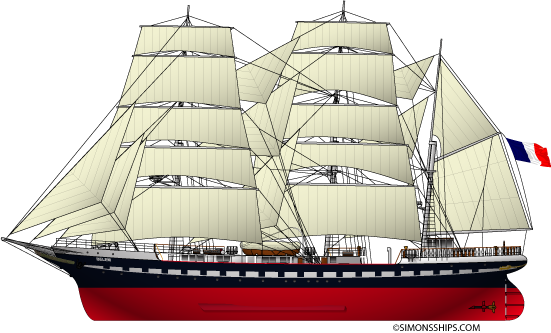 Built in 1895 at the Dubigeon shipyard near Chantenay sur Loire, ordered by shipowner Denis Crouan Fils, the vessel Belem equipped with three (wooden) masts and a steel hull started as a humble merchant ship. The next 18 years the Belem made 33 Atlantic crossings carrying all sort of cargo.
On the brink of the First World War the years as a working ship ended, out-competed by upcoming steam vessels. In March 1914 the Belem got a new UK owner, the 2nd Duke of Westminster. The ship was totally refurbished into a luxury yacht. The wooden masts were replaced by steel ones, two engines and two propellers were fitted. The hold was changed into cabins and and a deck house built at the foot of the main mast. The striking Victorian balustrade of little white columns surrounding the quarterdeck was added.
In 1921 the Belem was bought by Sir Arthur Ernest Guinness and renamed Fantôme II, used as a luxury means of transport and floating office. During the Second World War Fantôme II was laid up at the Isle of Wight, were she was partly destroyed in a bombing raid.
The Italian count Vittorio Cini bought the ship in 1951 from the heirs of Sir Guinness, to be turned in a sail training vessel used for professional training of some 600 orphaned sons of seaman and fisherman. The ship was repaired, rigged as a barquentine, restored and named Giorgio Cini in memory of the son of Count Cini who died in a plane accident in 1949.
With approximately 60 young trainees the ship sailed the Mediterranean till 1965. At that time she could not longer apply to the new safety regulation. In 1976 the vessel was sold to the Venice shipyard, restored and put on sale.
At the initiative of Dr. Luc Gosse a group of French businessman tried to return the Belem to France. They succeeded and less than a year after the ships return in 1977 the Foundation Belem was set up. The vessel was again rigged as a barque and renovated to conform the modern norms for seamanship and safety.
Today the Belem is used as a commercial sail training ship sailing again the Atlantic as a proud French vessel.
References
Wikepedia: en.wikipedia.org/wiki/Belem_ship
Foundation Belem: www.fondationbelem.com/meet_the_belem.htm
"The content of this page is available under CC-BY-SA/GFDL"