| | |
| --- | --- |
| | Jubilee Yard |
| | 1996 |
| | 2000 |
| | 2000 |
| | STS Tenacious |
| | Jubilee Sailing Trust |
| | |
| --- | --- |
| | 675(GRT) |
| | 714t |
| | 65 , 213 |
| | 10,7 , 35 |
| | 4,6 , 15 |
| | 38,7 , 127 |
| | 1.217 |
| | 13.100 |
| MMSI | 235000230 |
| IMO | 1005679 |
| | ZQHM2 |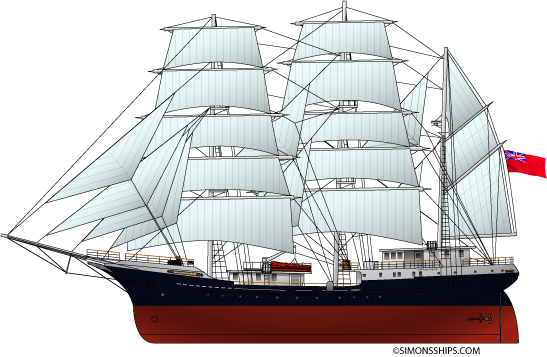 Designed to accommodate disabled people, gangways are wide enough to allow wheelchairs and lifts and hoists enable vertical movement, even till high in the mast (on adapted mast tops) the Tenacious together with the second tall ship Lord Nelson provide cruises for people of all physical abilities.
In the early 1990's a new ship was required next to the Lord Nelson due to the growing demand for voyages. In 1995 the British National Lottery agreed to secure 65% of the estimated cost and with some additional fund-raising the building of the ship became possible.
The Tenacious is the first wooden British tall ship since the 19th century. The hull is made of layered wood, epoxy and glass fabric, providing an almost maintenance free hull. The ship was constructed at the Jubilee Yard and in February 2000, when completed but still without masts, moved to Vosper Thornycroft to be finished. The ship was named by HRH The Duke of York on the 6th of April 2000.
References
Wikepedia: en.wikipedia.org/wiki/SV_Tenacious
Jubilee Sailing Trust: www.jst.org.uk/tenacious.aspx
West system: www.westsystem.com/ss/tenacious-a-look-back/
"The content of this page is available under CC-BY-SA/GFDL"