| | |
| --- | --- |
| | Joh.C.Tecklenborg |
| | 1925 |
| | 1926 |
| | 1926 |
| | Padua |
| | F.Laeisz |
| | Kruzenstern |
| | |
| | Kruzenstern |
| | |
| | |
| --- | --- |
| | 3.064(GRT) |
| | 3.545t |
| | 114,4 , 367 |
| | 14 , 46 |
| | 6,8 , 22 |
| | 51,3 , 168,3 |
| | 3.400 |
| | 36.600 |
| MMSI | 273243700 |
| IMO | 6822979 |
| | UCVK |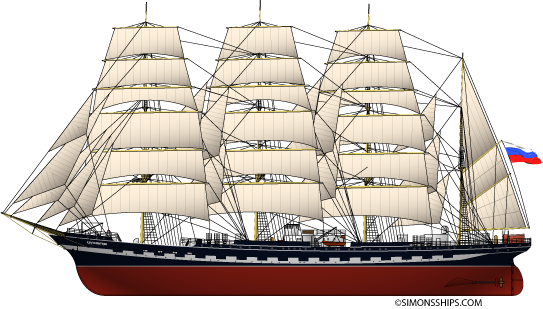 Originally named Padua (after the Italian city), the Kruzenstern is the last built and only still sailing ship of the famous P-liners. P-liners were sailing ship of the German shipping company F.Laeisz. All sailing ships operated by this company after 1880 had names starting with a P. A total of 20 P-Liner ships were build, of which four still exist today. Three of them are museum ships (the Pommern in Mariehamm, Finland; the Peking in New York and the Passat in Travemünde Germany).
The Padua was built in 1926 by shipyard Joh. C. Tecklenborg and commissioned as a cargo vessel for saltpeter from Chili. Later she transported wheat from Australia. The Padua (now Kruzenstern) is famous for her never broken record voyage for sailing ships: from Hamburg via Chile to Australia and back to Hamburg in 8 months and 23 days.
After the Second World War the Padua was confiscated by the USSR and renamed Kruzenstern after the Baltic captain and Russian admiral Adam Johann von Krusenstern. She was refitted for missions for the Hydrographic Department of the Soviet Navy.
In 1972 the ship was modernized and given her current hull paint. The ship is now used as training vessel for future fishery officers.
References
Wikepedia: en.wikipedia.org/wiki/Kruzenshtern_(ship)
Baltic state academy: bffsa.com/en/kruzenshtern_news/about_kruzenshtern.aspx
"The content of this page is available under CC-BY-SA/GFDL"