| | |
| --- | --- |
| | Bartram, Haswell & Co |
| | 1873 |
| | 1874 |
| | 1874 |
| | Clan Macleod |
| | T.Dunlop |
| | Clan Macleod |
| | Sir R.Cameron |
| | James Craig |
| | J.J.Craig |
| | James Craig |
| | British New Guinea |
| | Development Company |
| | James Craig |
| | Henry Jones & Co |
| | James Craig |
| | Catamaran Coal Mining |
| | Company |
| | James Craig |
| | Sydney Heritage Fleet |
| | |
| --- | --- |
| | 671(GRT) |
| | 937t |
| | 70 , 229,6 |
| | 9,5 , 31,3 |
| | 3,7 , 12,3 |
| | 33 , 108,2 |
| | 1.100 |
| | 11.840 |
| MMSI | 503493000 |
| IMO | |
| | VJMR |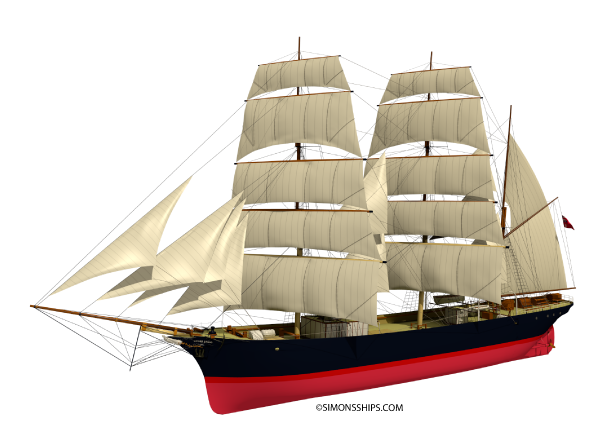 The barque was built in 1874 in Sunderland, England by Bartram, Haswell & Co by order of the Scottish shipowner T.Dunlop and named Clan Macleod, one of the first ships of the famous Clan Line. Nine years later the vessel was bought by the Canadian businessman and shipowner Sir Roderick Cameron. For both owners the ship carried various cargoes and rounded 23 times Cape Horn.
In 1899 the New Zealand shipowner J.J.Craig bought the ship for trans-Tasman trading (trade routes between Australia and New Zealand). In 1905 the ship was renamed after the son of J.J.Craig: James Craig (all ships of J.J.Craig were named after family members).
Due to the increased competition of steamships, in 1911 the ship was laid up, stripped and used as a copra hulk in New Guinea by the British New Guinea Development Company.
After the the First World War the ship was refitted by the Australian shipowner and manufacturer Henry Jones & Company (due to an acute shortage of cargo ships), but this was not very successful. Twice damaged she was in 1925 towed to Recherche Bay Tasmania and sold to the Catamaran Coal Company again to be used as a hulk, this time for coal.
In 1932 the ship was abandoned. When a fisherman blew a hole in her stern she sank close to the coast. The James Craig remained a wreckage for 40 years.
In 1972 a group of Sydney and Tasmanian volunteers did some emergency repairs, refloated the hull and towed her to Hobart for further temporarily repairs. In 1981 the James Craig was towed to Sydney. A full restoration by volunteers of the Sydney Heritage fleet followed and the restored hull was re-launched in 1997. In 2001 the James Craig was fully operational again.
The vessel is used for short cruises (in the weekend) and some longer journeys.
References
Wikepedia: en.wikipedia.org/wiki/James_Craig_(barque)
Sydney Heritage Fleet: www.shf.org.au/JCraig/JCraig.html
"The content of this page is available under CC-BY-SA/GFDL"