| | |
| --- | --- |
| | Astilleros Celaya S.A. |
| | 1981 |
| | 1982 |
| | 1982 |
| | Cuauhtémoc |
| | |
| | |
| --- | --- |
| | 1.755(GRT) |
| | 1.800t |
| | 90,5 , 297 |
| | 12 , 39,3 |
| | 5,2 , 17 |
| | 46,2 , 151,5 |
| | 2.368 |
| | 25.489 |
| MMSI | 345186001 |
| IMO | 8107505 |
| | XCBF |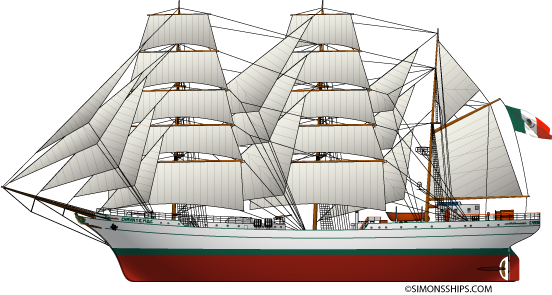 Named after the last Aztec Emperor Cuauhtémoc, the Mexican Navy sail training ship ARM Cuauhtémoc (ARM standing for: ARmada de Mexico) was built at the Spanish shipyard Celaya, like her sisterships the Colombian Gloria, the Ecuadorian Guayas and the Simón Bolivar of Venezuela. In 1982 the Cuauhtémoc was delivered to the Mexican Navy.
The design of the Cuauhtémoc and her sisterships is based on the German Gorch Fock class of sailing ships, designed and built by the German shipyard Blohm & Voss during the interbellum. Like those ships the Cuauhtémoc is rigged as a barque, although the typical German spanker is not implemented and adaptions are made to the shape of the hull.
Since the vessel is commissioned in 1982, a large number of Mexican Navy officer classes have learned basic seamanship. The training vessel is two times winner of the Boston teapot. The ship was also acting as a sailing ambassador for her home country while visiting the world ports.
References
Wikepedia: en.wikipedia.org/wiki/ARM_Cuauhtémoc_(BE01)
Tall ships America: www.sailtraining.org/membervessels/vessel.php?@=222&pg=Public_Information
"The content of this page is available under CC-BY-SA/GFDL"